Christmas is such a wonderful time of year. I love all the fun. The special things we do as a family, the food we eat, the things we make, the good cheer…. There are countless wonderful Christmas traditions and it's hard to choose the best.
But I have one thing I do every year, without fail AFTER Christmas, which captures it all (and it is getting bigger and better every year!)
I actually first started this idea the first Christmas I spent as a married couple (back in 2004!)
Way back then, scrapbooking was SUPER popular and it was in one of the scrapbooking magazines that I read about this awesome idea of having a special Album just for Christmas. The idea being that each year you would add just one more page to this album.
These days, trying to complete one scrapbooked page a year is about all that's achievable for me with a busy life with three young children. But I am glad to still have a purpose for doing this little bit of craft each year as I still find it fun.
Don't let the word "scrapbooking" put you off though, it doesn't have to have all the pretty stickers and frills. It can be as simple or elaborate as you like (In fact, read on as I have a super awesome easy suggestion that I'll share at the end). Personally though, I really enjoy using the pretty stickers and frills and today I will share some of the Christmas themed pages I have made so far (I have blurred the photos for privacy though so I hope you can use a bit of imagination!).
Every year, after Christmas, for the past 11 years I have put together a jam-packed double page in my Christmas album that records all the fun we had in the Christmas season that year.
As the album grows from year to year, it is getting bigger and better. The children are loving looking back and seeing photos of their first Christmas and remembering the fun memories we have shared.
My Christmas album has become particularly special, as not only has our family grown with babies over the years, but also some family members have sadly passed away. My grandpa and grandma were both dearly loved people, and as we look back on the past years in our Christmas album, we see them enjoying the Christmas celebrations with us, which is really special.
This Christmas page has a "Gingerbread house" theme as it was the year I attempted to make my first ever gingerbread house! My Little Scientist had also done a great job memorizing a special poem about Christmas time at his Grandmas house so I included the words to this as well.
As you can see, I manage to fit in quite a lot of photos on the pages!
It is important to include at least one photo with each family member in it so that as the years go by we can see how we have all grown and changed.
This page has colourful round Christmas Bauble shapes as this was a year we had fun playing with a bag of coloured plastic balls at my brother–in-laws house. I used those fun photo's as the focus and inspiration. I printed the group family photo's large and other favourite photos small. This meant I could still fit lots of other special memories on the page as well.
Each year I look for what memories were particularly special or unique or funny that Christmas and I make sure I highlight that. In 2008, I was 12 weeks pregnant with our first child and we gave everyone a special Christmas card with our birth announcement. I included a small copy of that Christmas card birth announcement on this Snow flaked themed Christmas page. There was actually three women that year at different stages of pregnancy so it was really special.
If there is somewhere special we went, person we visited or crafty project we made. A photo of that is always included.
I really enjoy each year choosing a different Christmas theme or colour scheme for the pages I make. Last year I did this page. I really like the gold and black, I think it is quite bold and striking. … A popular combination at the moment I think.
Of course, I always make sure I include the year and perhaps a bit of journaling about what we did for the children to enjoy reading in years to come.
This page is of my little China Dolls first Christmas. Would you believe her actual due date was Christmas day itself!? She ended up being born exactly 12 days before Christmas (thank God) so I decided that the song "The 12 days of Christmas" would be a perfect theme for this years Christmas page with a photo and memory for each number counting down (like the song). That… and lots of pink of course (I just couldn't resist!).
I have also gathered some photos from years gone by that I added to the start of my album. I collected photos from when my husband and I were children and I even found a few from when our parents were children too! It's nice to have these 'yester-year' pages as this really shows how family and traditions have grown and changed over time and how mummy and daddy celebrated Christmas as children. I printed all of these photos in sepia with a white border and used some old-fashioned photo corners to add to the vintage look.
My Christmas album is almost full now, and in a few years we will need to start a new album. I hope to make the new album digitally and just print the completed page each year to slide into the album pockets.
Christmas albums made easy
This year, Project Life has become a really popular way to put photo's together on a page. It is nowhere near as time-consuming and involved as the traditional scrapbooking style but it still provides an element of creativity and opportunity to pretty up the pages with a bit of colour, embellishment and journaling IF you want.
You can either buy the Project Life albums and box sets of cards to physically insert into the pockets, OR, there is an app you can download to make the pages digitally! …. I am really excited about this option. You simply drag the photo's you want to use into the template sections, add digital 'cards' as you please (that can be reused over and over again) then simply get it printed and slide it into the album once you are done!
There are many themed cards you can buy (either for a digital or physical album) including Christmas ones.
Here is a short video where Becky Higgins, the creator of Project Life explains how it works.
I am especially looking forward to doing the Christmas page for this year as it is my little baby girls first Christmas! She is just five and a half weeks old now and I havn't even had a chance to write about her on the Blog yet!
I can tell you though that we have been taking LOTS of photos of her and are treasuring every moment of this busy but very precious season of our lives.
We were lucky enough to receive this gorgeous Christmas theme photo of her by Luisa Dunn Photography and it will definitely feature in this years Christmas page. Isn't it sweet!!?? I think the bonnet is super cute.
I am linking up with Kylie Purtell today for IBOT and Create with Joy for "Inspire Me Monday"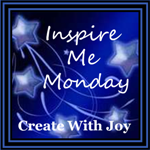 Do you have a Christmas Photo Album?
What is your all-time favourite Christmas tradition?
If you have small children don't forget to check out the toddler friendly Christmas tree decorations I made last year.